About this wiki • New pages • Categories • Blogs • Forums • Help pages • All Pages
This wiki is intended to serve as a repository of all past MONOPOLY Championships and their winners, including tournaments at the World, Country, and State/Province/Region levels, starting with the first MONOPOLY World Championship in 1973, all the way down to local charity tournaments. Learn all the details on past tournaments, record-setting players, and world competitions such as the 2015 World Championship.  Need help? Have a question? Then make your way over to the forums! This wiki also serves as a great place to get discussions going about MONOPOLY strategies and local charity tournaments.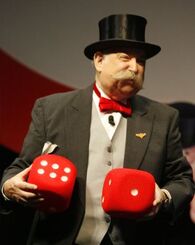 Please note that this wiki is still in development, with a current total of 156 articles. Please do not vandalize or disrupt any of the current articles unless you are contributing to the wiki.
MONOPOLY is a trademark of Hasbro; this wiki is unaffiliated with Hasbro. All photos used on this wiki are either part of press kits from Hasbro/Parker Brothers, added by the producers of Under the Boardwalk, submitted by the copyright holder, or are being used under fair use.
Adding Information
When you add missing information to a page, to make sure your edit is not reversed, please include some verifiable proof as to your information, such as a newspaper article, website covering a tourney, or documents from the actual tournament.
Sponsor
This wiki was created and is primarily maintained by the director of Under the Boardwalk: The MONOPOLY Story, an Emmy award-winning documentary about the history of the game of MONOPOLY and the people who play it. Check it out at MonopolyDocumentary.com, on Amazon, VHX, and Steam.
Latest activity
MONOPOLY Championships Navigation Table