2021 Hong Kong Championship
[
]
The 2021 Hong Kong Championship took place on nine consecutive weekends in July and August 2021 at Peak Galleria, as one of the celebrations of MONOPOLY's 85th anniversary[1]. The winner was Billy Lam[2]. The Monopoly Dreams installation in Hong Kong congratulated the winners on Facebook with the following:
經過一連九星期既比賽,大富翁85周年香港大賽既冠軍已經誕生左啦~ 恭喜"Happy Family" 同"林浩然"! 再次感謝各位選手同觀眾朋友既支持!![3]
In addition to the individual championship, families could also compete together as a team.
The entering cost was HKD $308/388/699 depending on whether the players want a standard pack or deluxe pack of merchandise with their entry, and if they got an early bird discount. Players were expected to advance through 3 preliminary rounds before entering into the quarter final at Peak Galleria.
The championship was postponed from its originally scheduled time in late 2020. Amoy Plaza was originally selected as one of the venue for preliminary rounds, but it was not used after the rescheduling.
This championship may or may not be a qualifier for the next World Championship as plans for a 2021 World Championship have been scrapped and no additional plans have yet been announced.
2015 Hong Kong Championship

[

]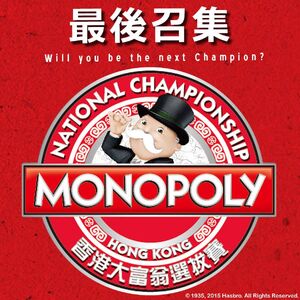 The 2015 Hong Kong Championship took place on April 26, 2015 at Maritime Square in Tsing Yi.[4][5] Hon Tsz San was the champion and competed at the 2015 World Championship in Macau.
Preliminary rounds were held followed by a final. They played with the Speed Die and used $2500 starting cash.
The defending champion from 2009 is Lucan Lee Luet-Kan. 
Hong Kong MONOPOLY Championships
[
]
| Year | Winner | Location |
| --- | --- | --- |
| 2021 | Billy Lam | Peak Galleria |
| 2015 | Hon Tsz San | Maritime Square, Tsing Yi |
| 2009 | Lucan Lee Luet-Kan | ? |
| 2004 | Ho King Fai | ? |
| 2000 | Steven Chu Chun Hin | ? |
| 1996 | Christopher Woo | ? |
MONOPOLY Championships Navigation Table