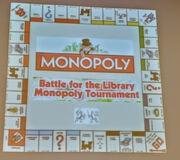 The 2018 
Battle for the Library Tournament
was held on January 20,
2018
. It consisted of two, 90-minute preliminary rounds, followed by a 90-minute five player final.
Anik Singh
was the Senior Champion, out of 20 adults who played. TBD was the Youth Champion out of TBD youth competitors.
Each preliminary round, players earned points equivalent to the percentage of assets they held at their table at the end of the game or at the end of the 90 minute period, whichever came first. A player who bankrupted their whole table gets 100 points, a player who is bankrupted gets 0 points. Fractional points were possible, but for the purpose of the below table, they were rounded to the nearest whole number.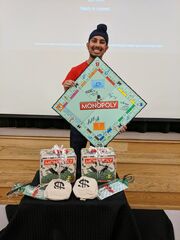 After both preliminary rounds, the four players with the highest points advanced to the final round, who would play against the defending champion, 
Anthony Yiatras
. The combined asset total for both preliminary rounds was used as a tiebreaker for equal numbers of points.
The final match was completed in approximately 52 minutes, and prizes were awarded to the top three finalists.
The full list of players and their point totals will be provided by the tournament organizers. Final place uses the total combined assets to delineate between the ties.
Senior Division Players
Edit
Junior Division Players
Edit
Note: For privacy of minors, junior division results will only display players' first names and last initial unless they have requested to be included with their full name.
Player Name
1st Round Place
1st Round Points
2nd Round Place
2nd Round Points
Total Prelim Points
Final Place
MONOPOLY Championships Navigation Table