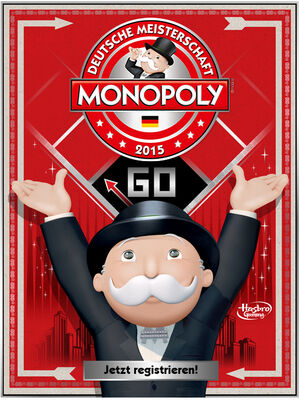 The 
2015 Germany MONOPOLY Championship
took place June 28, 2015 at Friedrichshainer Umspannwerk in Berlin. To qualify, you had to compete and win one of 20 regionals taking place during the month of May. In total, 24 finalists competed which included the 20 regional champions plus four invited players, including defending German champions 
Hans-Georg Schellinger
,
Hans-Günther Meyer
 and
Klaus Armbrüster
.
Ita Hoffman, 25 years old, of Gropiusstadt, Berlin defeated the field of competitors, and received a trip to the 2015 World Championship in Macau in September.[1] She is the first woman to win Germany's MONOPOLY Championship.
Kay Kuchelmeister of Reutlingen finished in 2nd place.[2] The other two finalists were Hans-Günther Meyer and Klaus Armbrüster.[3]  The youngest participant this year's national championship was 14-year-old Daniel Bechtum from Baden-Württemberg. Also participating was Reiner Sietas, 56 years old.
Regionals were held inside McDonalds restaurants throughout the country, but registration was limited to 16 participants per regional. Details are on the website: http://www.monopoly.de/meisterschaft-deutschland/. Based on a translation of the tournament rules, it appears that each regional consisted of a preliminary round and a final round. The winner of the final round was then invited to compete in the national championship in Berlin.
| Date | Location | Winner |
| --- | --- | --- |
| May 11 | Rostock | ? |
| May 11 | Muenster | ? |
| May 11 | Cottbus | ? |
| May 12 | Hamburg | ? |
| May 12 | Kassel | ? |
| May 12 | Eislingen | ? |
| May 13 | Oldenburg | ? |
| May 13 | Freiburg | ? |
| May 13 | Dresden | ? |
| May 18 | Aachen | ? |
| May 18 | Nürnberg | ? |
| May 19 | Erfurt | ? |
| May 19 | Neubrandenburg | ? |
| May 19 | Saabrücken | ? |
| May 20 | Dannenberg | ? |
| May 20 | Magdeburg | ? |
| May 20 | Heidelberg | ? |
| May 21 | Unterhaching | ? |
| May 21 | Berlin | ? |
| May 21 | Frankfurt am Main | ? |
MONOPOLY Championships Navigation Table